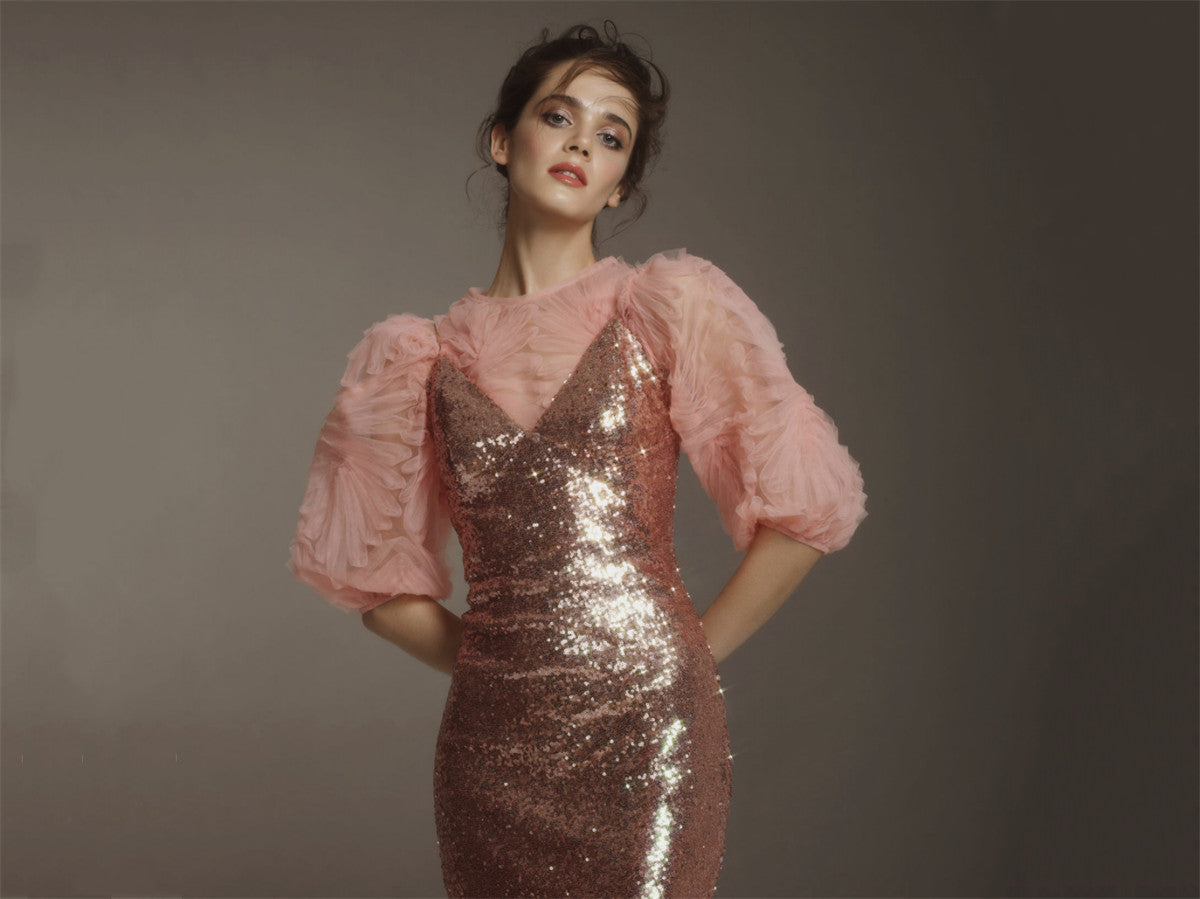 When it comes to red carpet events and award shows, the hottest trend for red carpet dresses is usually dusty rose or dusty pink. This gorgeous and trendy color is ideal for all skin tones and perfect for prom in 2022! From subtle hues to bold and bright versions of this neutral tone, there's a perfect dusty pink dress for every girl looking to stand out on her special night. With so many options available these days, finding your perfect dusty pink prom dress won't be as hard as you think! Keep reading for our top eight picks from the latest collections; we know you'll find something you love!
This beautiful dusty pink dress is the perfect way to make a dramatic entrance on prom night. The spaghetti straps are delicate and feminine, while the trail of fabric gives it a more formal appearance. Pair this with black strappy heels and simple jewellery for a gorgeous look but sleek enough to get you decked out in style!
This sparkling dress in blush pink is a beautiful option for those looking for something dazzling. The soft pink shade is subtle enough to make you look more elegant and sweet than with a bold hue. The embellished bodice makes this prom dress the perfect way to show off your sophisticated side!
This lovely dusty pink dress is a beautiful style for those wanting to show off their fun side and brighten up their look with a splash of color. The spaghetti straps are low-cut and daring, giving the prom dress an edgy feel that's perfect for those who have an adventurous personality!
Looking for something a little bit more gorgeous than the rest? This stunning rose-pink prom dress is perfect for those wanting to stand out on the dance floor! The appliques are large and fashionable, setting this dress apart. Pair this with silver strappy heels and nude jewellery for a look that's bold but still soft on your skin tone!
If you're looking for something simple and elegant, this gorgeous dress is a perfect choice! The cross-over straps are delicate but still sexy, creating a soft and pretty look without being too 'baby doll' for prom. The light shade of dusty pink is a beautiful hue that looks great on everyone!
If you prefer the more classic look of a prom dress, this A-line dress is perfect. The off-the-shoulder cut is modern and chic, while the split in the bodice makes it a beautiful choice for those who want to show off their sexy side!
This gorgeous dress is the perfect choice for those who want to show off their sexy curves! The mermaid style allows you to show off your legs and the color is beautiful for all skin tones. Pair this with black heels and simple jewellery; you'll be ready for anything on prom night!
If you're looking for a more formal dress short enough to cut the rug with, this dusty pink number is perfect for you! The split-shoulder design is elegant and sexy, making this prom dress a beautiful choice for those who want to look chic but still feel comfortable on the dance floor.
Why buy from us?
We stand behind our quality 100%. If you are not happy with the fit when it arrives or the dress is not to your liking, simply return it to us within 30 days, and we will promptly refund you.
Knowing that Savavia Dress is certified by major credit cards, you can buy with confidence. It offers safe payment via PayPal and Stripe.
We deliver worldwide, and your shipping time may vary depending on your location.
We have a great customer service team that works hard to ensure each customer is well taken care of.
Conclusion
As you can see, there are plenty of lovely options when it comes to dusty pink prom dresses! The combination of a neutral color and dainty detailing makes it a flattering choice for all skin tones, making it ideal for any occasion. You'll definitely find your perfect dusty pink prom dress at Savavia Dress with so many carefully selected pieces!