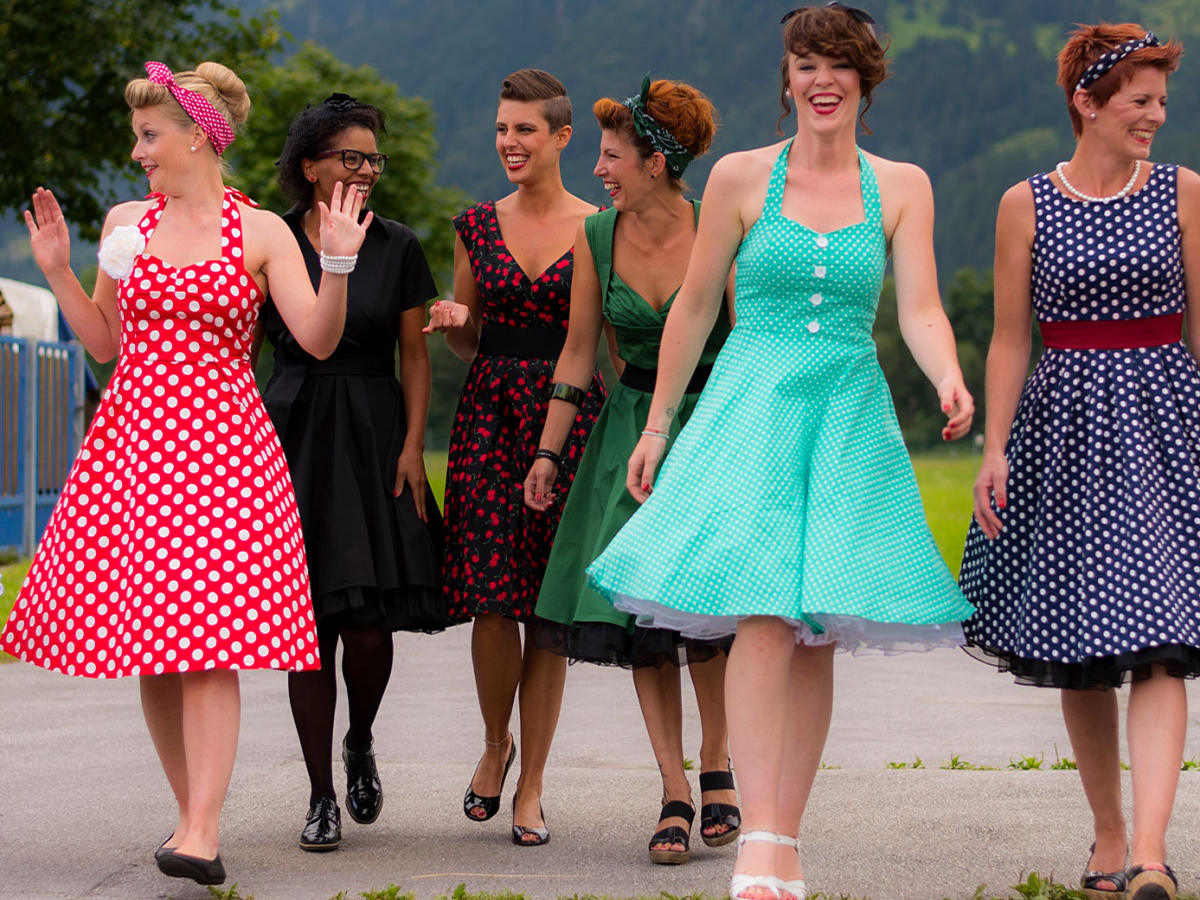 Looking for a theme for your prom this year? Check out our guide to what you should wear through the decade's themed proms! From the 20s to the 90s, there's something for everyone.
Shop for short vintage dresses from our prom and decade party theme collection at Savavia. Browse through a wide range of styles, colors, and sizes.
Flappers dominated the fashion scene during the 1920s. They wore dresses that were short and tight-fitting, often with daring necklines. You can recreate this look by choosing a dress with sequins in a V-shape or in a criss-cross pattern.
One great option is a one-shoulder column sequin dress. This style is elegant and timeless, and it will make you feel like a glamourous movie star from the 1920s. Another possibility is a shorter dress with lots of fringe or beading. This type of dress is perfect for showing off your legs and dancing the night away.
Check the One Shoulder Column Sequins Prom Dresses and Criss Cross Sequins Prom Dresses below for 20s-themed parties!
Dirty 30s Theme Party Dresses
The Dirty 30s were a time of prohibition, speakeasies, and glamour. If you want to feel like a true flapper girl, opt for a sequin dress in either black or silver. Mermaid-style dresses with layers of tulle and lace are also perfect for this theme, as are full-length gowns with intricate beading and embroidery.
Are you planning a Dirty 30s-themed party and looking for the perfect dress? If so, you'll want to consider an elegant sequin prom dress. With their flashy designs and glamorous details, sequin dresses are perfect for parties and other special occasions.
Check the Elegant Sequins Embroidery Prom Dresses and Mermaid Sequins Lace Prom Dresses below for 30s-themed parties!
Fabulous 40s Theme Party Dresses
Women of the 1940s loved dressing up and going out. There was a sense of glamour and excitement in the air, and women wanted to look their best. One of the most popular styles for evening wear was the lace square neck dress. This dress featured a high square neckline made from lace, with three-quarter length sleeves.
A-line dresses are always popular for themed events, and short sleeve v-neck dresses are perfect for summer parties. They both evoke the elegance of the 1940s without being too stuffy or formal. If you're looking for something a little more flashy, consider going with a sequined number in a bold color.
Check the A-line Short Sleeve V-neck Dresses and Lace Square Neck 3/4 Latern Sleeve Dresses below for 40s-themed parties!
Nifty 50s Theme Party Dresses
There are many different types of 50s dresses to choose from. If you want something that will show off your curves, go for an elastic satin prom dress. These dresses hug your body in all the right places and are perfect for showing off your feminine figure.
If you're looking for a unique and stylish look for your 50s-themed party, consider dresses with bubble sleeves. These dresses are both chic and age-appropriate, and they come in a variety of colors and styles.
Check the Bubble Sleeves Vintage Clash Colors Dresses and Polka Dots Elastic Satin Prom Dresses below for 50s-themed parties!
Swingin' 60s Theme Party Dresses
While there are many options to choose from for the 60s, a classic look with applique and a criss-cross bodice is always in style. This prom dress look gives you the chance to show off your feminine curves while still looking elegant and timeless.
To create a 60s-inspired look, go with an off-the-shoulder A-line prom dress. This style features a fitted bodice that flares out into a full skirt, creating a flattering and feminine silhouette.
Check the Appliques Criss Cross Prom Dresses and Off the Shoulder A-line Cotton Vintage Dresses below for 60s-themed parties!
Super 70s Theme Party Dresses
What could be more fitting for a 70s-themed party than a dress with spaghetti straps? Whether you're looking for something short and flirty or long and elegant, there's a spaghetti strap prom dress out there for you.
V-necklines and shinny sequins are both key features of 70s-style prom dresses. They add a touch of glamour to an otherwise casual look.
Check the V-neck Shinning Sequins Prom Dresses and Sequins Spaghetti Straps Split Prom Dresses below for 70s-themed parties!
Big 80s Theme Party Dresses
When it comes to a big 80s theme party Check out an A-line off-the-shoulder dress that is perfect for showing off your curves. This style is making a comeback, so don't miss out on this retro look.
If you're looking to make an impression at your next 80s party, then a split off-the-shoulder prom dress is a perfect choice. With its voluminous skirt and eye-catching details, this dress is sure to turn heads.
Check the A-line Off the Shoulder Satin Short Prom Dresses and Split Off the Shoulder Satin Prom Dresses below for 90s-themed parties!
Grungy 90s Theme Party Dresses
One great option is a mermaid criss-cross prom dress when it comes to 90s. This style features a figure-hugging mermaid skirt and sexy crossover straps in the back. It's perfect for channeling your inner grunge goddess!
The spaghetti straps prom dresses are the perfect way to show off your tan skin. The mermaid silhouette will highlight your curves and make you feel confident on the dance floor. The high hemline is perfect for a grungy 90s-themed party.
Check the Spaghetti Straps Mermaid Spandex Prom Dresses and Appliques Mermaid Criss Cross Prom Dresses below for 90s-themed parties!
Conclusion
Through the decades themed prom is special. Vintage is a new fashion this years. You can have a lot of fun in these theme proms!